Posts for: March, 2019
By Thomas J. English, DDS
March 17, 2019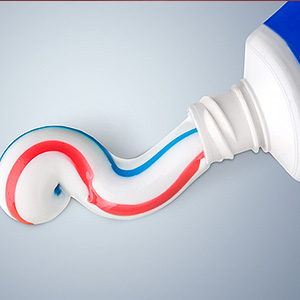 Human beings have known for millennia the importance of keeping teeth clean. Although we've only come to more fully understand dental plaque's role in dental disease in the last century, our ancestors seemed to know instinctively this gritty biofilm on teeth had to go.
People from the past once used a variety of substances like ground oyster shells or leftover fire ashes to remove plaque from their teeth. Today, most of the world has replaced these substances with toothpaste, a mainstay of daily oral hygiene.
So, why is toothpaste better than other substances used in the ancient past? Besides the many other ingredients found in the typical tube of toothpaste, here are the top 3 that make it the ultimate tooth cleaner.
Abrasives. While your toothbrush does most of the mechanical work loosening plaque, toothpaste has ingredients called abrasives that give an added boost to your brushing action. The ideal abrasive is strong enough to remove plaque, but not enough to damage tooth enamel. If you look at your toothpaste's ingredient list, you'll probably see an abrasive like hydrated silica (made from sand), hydrated alumina, calcium carbonate or dicalcium phosphates.
Detergents. Your toothpaste's foaming action is a sign of a detergent, which helps loosen and break down non-soluble (not dissolvable with plain water) food substances. While similar to what you may use to wash your clothes or dishes, toothpaste detergents are much milder, the most common being sodium lauryl sulfate found in many cosmetic items. If you have frequent canker sores, though, sodium lauryl sulfate can cause irritation, so look for a toothpaste with a different detergent.
Fluoride. The enamel strengthening power of fluoride was one of the greatest discoveries in dental care history. Although not all toothpastes contain it, choosing one with fluoride can improve your enamel health and help protect you from tooth decay.
These and other ingredients like binders, preservatives and flavorings, all go in to make toothpaste the teeth-cleaning, disease-fighting product we've all come to depend upon. Used as part of daily oral hygiene, toothpaste can help brighten and freshen your smile, and keep your teeth and gums healthy.
If you would like more information on using the right toothpaste, please contact us or schedule an appointment for a consultation. You can also learn more about this topic by reading the Dear Doctor magazine article "Toothpaste: What's in It?"
By Thomas J. English, DDS
March 07, 2019
Do you grind your teeth? If you're not sure, ask your family—sometimes the sound of teeth grinding against teeth might make enough noise to be keeping them up at night. You might also be waking with sore jaw muscles and joints.
If you suspect you have this habit of involuntarily grinding, gnashing or clenching your teeth, it's a good idea to get it checked. Here are 3 things you should know about this odd habit.
Teeth-grinding more prevalent among children. Children are more likely than adults to grind their teeth in their sleep, thought to be a consequence of their developing swallowing mechanism, but usually grow out of it without any long-term effects. Adults with the habit seem to grind their teeth for different reasons, one of the most significant being a response to high stress. Tobacco could be another factor: users are twice as likely as non-users to grind their teeth. Adult teeth-grinding may also be associated with high caffeine consumption, illicit drug use or Parkinson's Disease, which impairs brain nerve function.
Sleep apnea can be an underlying cause. There's one other major underlying cause to add to that list: obstructive sleep apnea. One international study of thousands of patients from different countries found both high anxiety or stress and sleep-related breathing disorders were two of the most significant risk factors for adult teeth-grinding. It's believed the physical stress generated by these temporary episodes of breathing obstruction occurring several times a night could trigger teeth-grinding.
Teeth-grinding can cause dental problems. While having a teeth-grinding habit doesn't automatically mean you'll have dental issues, your risk can increase dramatically. Due to its chronic nature, teeth-grinding can lead to excessive tooth wear, dental work damage or jaw joint dysfunction. In some extreme cases, it could cause tooth fracture.
If you grind your teeth, your dentist may be able to help by creating a custom-made occlusal guard that can reduce biting forces while you're wearing it. You might also minimize teeth-grinding by quitting tobacco and other lifestyle changes, or getting a better handle on stress management. And if you're also diagnosed with obstructive sleep apnea, getting treatment for that condition will not only improve your overall health, it could help put an end to your teeth-grinding habit.
If you would like more information on bruxism, please contact us or schedule an appointment for a consultation. You can also learn more about this topic by reading the Dear Doctor magazine article "Teeth Grinding: Causes and Therapies for a Potentially Troubling Behavior."