Posts for: February, 2018
By Thomas J. English, DDS
February 17, 2018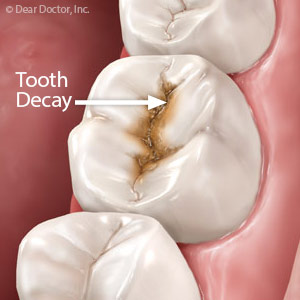 Families of children with chronic conditions face many challenges. One that often takes a back seat to other pressing needs is the prevention of tooth decay. But although difficult, it still deserves caregivers' attention because of the dental disease's potential long-term impact on oral health.
Chronically ill children are often at higher risk for tooth decay, most commonly due to challenges in practicing effective oral hygiene. Some conditions create severe physical, mental or behavioral impairments in children's ability to brush and floss: for example, they may have a heightened gag reflex to toothpaste in their mouth or they may not be able to physically perform these tasks on their own.
Some children may be taking medications that inhibit salivary flow as a side effect. Saliva is critical for disease prevention because it both neutralizes mouth acid (which can erode tooth enamel) and is a first line of defense against disease-causing bacteria. And a child's diet, while designed to support treatment of their chronic condition, may conversely not be the best for supporting their dental health.
It's best if caregivers and their dentists develop a strategy for decay prevention, which should include the following:
Regular dental visits beginning at Age One. Besides monitoring dental health, dental visits also provide cleanings and other preventive measures like topical fluoride or sealants;
Brushing and flossing support. Depending on a child's physical and mental capacities, caregivers (or an older sibling) may need to model brushing and flossing, or perform the tasks for the child;
Medication and diet changes. If medications are causing dry mouth, caregivers can speak to their physicians about possible alternatives; likewise, they should see if modifications can be made to their diet to better support dental health.
Boosting salivary flow. It's especially important with children who have dry mouth to drink more water or use aids (like xylitol gum or candies) to boost salivary flow.
Although it requires extra effort and time to give attention to a chronically ill child's dental health, it's well worth it. By working to prevent tooth decay early in life, these children will be more likely to enjoy good dental health in the future.
If you would like more information on dental care for children with special needs, please contact us or schedule an appointment for a consultation. You can also learn more about this topic by reading the Dear Doctor article "Managing Tooth Decay in Children with Chronic Diseases."
By Thomas J. English, DDS
February 02, 2018
You might not be aware how much force your jaws generate while you eat or chew. But you can become aware in a hurry when part of your inside cheek or lip gets in the way.
What may be even worse than the initial painful bite are the high odds you'll bite the same spot again—and again. That's because of a feature in the skin's healing process.
As a surface wound heals, it often forms a cover of fibrous tissue consisting of the protein collagen. This traumatic fibroma, as it's called, is similar to a protective callous that develops on other areas of damaged skin. In the process, though, it can become "taller" than the surrounding skin surface, which increases the chances of another bite.
This second bite often results in more fibrous tissue formation that rises even higher from the skin surface, which then becomes more likely to be bit again. After repeated cycles, the initial wound can become a noticeable, protruding lump.
These kinds of sores are typically not cancerous, especially if they've appeared to form slowly over time. But they can be a nuisance and the occasion of sharp pain with every subsequent bite. There is, though, an effective way to deal with it—simply have it removed.
While it involves a surgical procedure—an oral surgeon, periodontist or dentist with surgical training usually performs it—it's fairly minor. After numbing the area with a local anesthetic, the dentist will then completely excise the lesion and close the resulting gap in the skin with two or three small sutures (it could also be removed with a laser). The wound should heal within a few days leaving you with a flat, flush skin surface.
The tissue removed is usually then biopsied. Although it's highly unlikely it was more than an annoying sore, it's still common procedure to examine excised tissues for cancer cells. If there appears to be an abnormality, your dentist will then see you to take the next step in your treatment.
More than likely, though, what you experienced was a fibroma. And with it now a thing of the past, you can chew with confidence knowing it won't be there to get in the way.
If you would like more information on dealing with common mouth sores, please contact us or schedule an appointment for a consultation. You can also learn more about this topic by reading the Dear Doctor article "Common Lumps and Bumps in the Mouth."